Westbury Festival presenting
Michael Rosen 'Live' at Matravers School

All Michael's books will be available to buy in the Bookshop
Your school has been sent a special envelope for every child to use to bring cash to buy a book. All change will be placed in the wallet for children to safely bring home.

If you have small children and wish to purchase books for them or just want to avoid the Bookshop queues, you may pre-order Michael's books via the 'Signing Shop' for collection at Matravers School.
NOW EXTENDED TILL SUNDAY 16TH JULY
Choose your book(s)
For each book:
Click Event Sponsor and Choose Westbury
Enter your Child's Name and Class
At Checkout
Enter your address details
Select Delivery to School
Select Your Child's School from the options listed
Click below to browse Michael's books.
Please also note the closing date for orders is the evening of 16th July.
"If we don't learn to love books, we don't read. And if we don't read widely, we don't think deeply." Michael Rosen
"Our new research, published today, shows that the more books a child owns, the more likely they are to do well at school and be happy with their lives.
"Based on a survey of 44,097 children aged 8-18 in the UK, our Book ownership, literacy engagement and mental wellbeing report found that:
Children who have 60 or more books at home are 5.5 times more likely to read above the level expected for their age than their peers who have fewer than 10 books
Children who read above the level expected for their age have twice as many books as those who read below the expected level
Children who have a book of their own at home have higher levels of mental wellbeing than those who don't have any books
"However, children and young people from disadvantaged backgrounds are at risk of missing out on the educational and health benefits of book ownership:
1 in 8 disadvantaged children in the UK don't own a single book, compared to 1 in 11 children nationally
Of children who own books, those from disadvantaged backgrounds have 25% fewer books on average than their more affluent peers"
Owning books boosts children's literacy and mental wellbeing –  National Literacy Trust – 07 Dec 2018

Thanks, Roving Bookshop, the great peripatetic provider of passion and pathos.
Michael Rosen
Poet and performer who needs no introduction
I just wanted to say thank you for bringing the Roving Bookshop to St Greg's yesterday. It was lovely to meet you – you were so friendly and helpful, and having real, live actual books in the hall for the children to buy really added to the excitement and impact of the day. There was no fuss or stress for our staff either as everything was taken care of – win-win!
We're looking forward to welcoming you back in September and seeing the whole Bookshop in all of its glory!
Daniel Woodrow
Headteacher, St Gregory CEVC
Thanks many times to
@RovingBookshop
who attend my bookings all over the country with a huge display of nearly all my titles so at a conference people buy both my children's and adult books: Bear Hunt, Zola,Uncle Gobb, Good Ideas etc etc
Michael Rosen
Poet and performer who needs no introduction
Thank you to
@afharrold
for providing the most wonderful start to our book week and to
@rovingbookshop
for making it possible for every child in the school to use their world book day
token!
Hallsville Primary
Thank you all for such a wonderful day at the book fair. The children loved coming to peruse the books and, thanks to your generosity, we raised lots of money to buy new books for the school. Hope the children are enjoying their new purchases.
Warren Road Primary
@RovingBookshop
Thanks for your sterling work flogging my books at Rushey Mead Academy today.
Very much appreciated.
Dave Shelton
Author
Thank you to @RovingBookshop
for putting on a wonderful spread today! The children at
@peoversuperior
loved buying their books and the buzz around school was fantastic-some were even reading them in the line at the end of the day! #RFP
Emily Crumbleholme
Assistant Principal: (Evidence Lead in Education and Specialist Leader of Education Literacy), Peover Superior Endowed Primary School
We had the
in school today. I know it's not a library visit, but the engagement from children and parents alike was incredible. A must have for parents evenings especially.
Mr Mclugash
Assistant Headteacher, Rothley C of E Primary Academy
If you need a bookshop for a conference, or in school, then contact Rob @robmcaulay
and the wonderful Roving Bookshop.
Pie Corbett
Creator the Talk for Writing approach
      The amazing Roving Book Shop here today at #TTTaT Cornwall.
   The best book shop in town!
                       Can you spot Rob?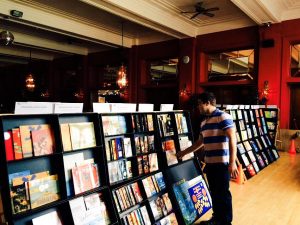 Maria Richards
freelance Education Consultant, In-Finity Literacy
I just wanted to thank you for making our Roving Bookshop today a huge success.
From the initial set up this morning by Mike Eastwood, and then throughout the day we, on behalf of all the staff here at Wingrave C of E School, just wanted to say a huge thank you. Mike was truly wonderful with all the children and staff and did such a great job. Thank you Mike.
It was such a wonderful day for the children and the BEST bookshop which we have ever had at our school. The children were excited to be-able to buy a book and take it home in their little gift bags. We were so impressed with the whole organisation of the Bookshop and will definitely be booking another date for this amazing shop for the children and we'll highly be recommending the Roving Bookshop to other colleagues and schools.
Many thanks again for bringing a real buzz to Wingrave.
Mrs Beth Brown
Deputy Headteacher, Wingrave C of E School,
Just wanted to say how much we enjoyed having Mike here yesterday with your fantastic selection of books. Praise from everyone – children, parents and teachers.
I will be in contact after half term to hopefully book a date for the summer term and for next academic year.
Thank you
Karina Thompson
Greenleaf Primary