Driver/Sales Assistant – Mobile in School Bookshop
A unique opportunity to join a small team with a big mission
The Roving Bookshop has a national reputation for its carefully curated stock of children's books. Travelling all over the country from our Leicester base, we provide primary children with a unique opportunity to experience a full size bookshop in their own school packed with only the very best books.
We also provide specialist bookselling at author performances, conferences and other training events for teachers.
You will need to be confident and resourceful to handle each venue single-handedly – driving, unloading and erecting the Bookshop, then interacting with teachers and children and selling books throughout the day.
You may opt for a full or part time salaried contract but will need to be flexible. Term time is very busy particularly around world book day in February and March when you could be working every day. Other weeks you may be completely free.
Whether you have family commitments, are studying or have other interests, we are small enough to make sure our schedules are agreed with you in advance so you can get the most out of your days off and the main school holidays can be completely work free.
If you love keeping busy and want to do a job that matters, find out more below and apply for something completely different with Roving Books.
We look forward to receiving your application.

Thanks, Roving Bookshop, the great peripatetic provider of passion and pathos.
Michael Rosen
Poet and performer who needs no introduction
I just wanted to say thank you for bringing the Roving Bookshop to St Greg's yesterday. It was lovely to meet you – you were so friendly and helpful, and having real, live actual books in the hall for the children to buy really added to the excitement and impact of the day. There was no fuss or stress for our staff either as everything was taken care of – win-win!
We're looking forward to welcoming you back in September and seeing the whole Bookshop in all of its glory!
Daniel Woodrow
Headteacher, St Gregory CEVC
Thanks many times to
@RovingBookshop
who attend my bookings all over the country with a huge display of nearly all my titles so at a conference people buy both my children's and adult books: Bear Hunt, Zola,Uncle Gobb, Good Ideas etc etc
Michael Rosen
Poet and performer who needs no introduction
Thank you to
@afharrold
for providing the most wonderful start to our book week and to
@rovingbookshop
for making it possible for every child in the school to use their world book day
token!
Hallsville Primary
Thank you all for such a wonderful day at the book fair. The children loved coming to peruse the books and, thanks to your generosity, we raised lots of money to buy new books for the school. Hope the children are enjoying their new purchases.
Warren Road Primary
@RovingBookshop
Thanks for your sterling work flogging my books at Rushey Mead Academy today.
Very much appreciated.
Dave Shelton
Author
Thank you to @RovingBookshop
for putting on a wonderful spread today! The children at
@peoversuperior
loved buying their books and the buzz around school was fantastic-some were even reading them in the line at the end of the day! #RFP
Emily Crumbleholme
Assistant Principal: (Evidence Lead in Education and Specialist Leader of Education Literacy), Peover Superior Endowed Primary School
We had the
in school today. I know it's not a library visit, but the engagement from children and parents alike was incredible. A must have for parents evenings especially.
Mr Mclugash
Assistant Headteacher, Rothley C of E Primary Academy
If you need a bookshop for a conference, or in school, then contact Rob @robmcaulay
and the wonderful Roving Bookshop.
Pie Corbett
Creator the Talk for Writing approach
      The amazing Roving Book Shop here today at #TTTaT Cornwall.
   The best book shop in town!
                       Can you spot Rob?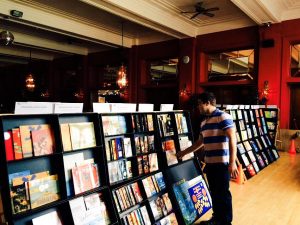 Maria Richards
freelance Education Consultant, In-Finity Literacy
I just wanted to thank you for making our Roving Bookshop today a huge success.
From the initial set up this morning by Mike Eastwood, and then throughout the day we, on behalf of all the staff here at Wingrave C of E School, just wanted to say a huge thank you. Mike was truly wonderful with all the children and staff and did such a great job. Thank you Mike.
It was such a wonderful day for the children and the BEST bookshop which we have ever had at our school. The children were excited to be-able to buy a book and take it home in their little gift bags. We were so impressed with the whole organisation of the Bookshop and will definitely be booking another date for this amazing shop for the children and we'll highly be recommending the Roving Bookshop to other colleagues and schools.
Many thanks again for bringing a real buzz to Wingrave.
Mrs Beth Brown
Deputy Headteacher, Wingrave C of E School,
Just wanted to say how much we enjoyed having Mike here yesterday with your fantastic selection of books. Praise from everyone – children, parents and teachers.
I will be in contact after half term to hopefully book a date for the summer term and for next academic year.
Thank you
Karina Thompson
Greenleaf Primary